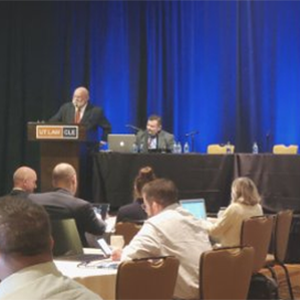 eCourse
Non-Compete Essentials: From Drafting to Litigating
Contains material from Mar 2021
Non-Compete Essentials: From Drafting to Litigating
4.41 out of 5 stars
What was the overall quality of the course (presentation, materials, and technical delivery)?
Rate the overall teaching effectiveness and presentation skills of faculty for the course.
How would you rate the value of the materials provided as part of the course?
---
very thorough and presented well
Loved the fact that the subject matter was cohesive and broken up into 4 segments that could be watched at different times. It was helpful and effective.
Course was great!
Technical Questions?
512.475.6700
service@utcle.org
This four-part short course will cover the essentials of Texas non-compete law, covering the entire life cycle of a non-compete, from drafting, to hiring an employee who has a non-compete, to the exit interview, demand letter, TRO hearing, temporary injunction hearing, summary judgment, trial, and appeal. Join moderator Zach Wolfe and other leading experts as they explore:
Part 1: Basics of Texas Non-Compete Law and Drafting the Non-Compete
Part 2: Hiring an Employee With a Non-Compete
Part 3: Enforcing the Non-Compete: Exit Interview Through Temporary Injunction Hearing
Part 4: Enforcing the Non-Compete: Summary Judgment Through Trial and Appeal
Includes: Video Paper Slides
Total Credit Hours:
3.00 | 1.00 ethics
TX, CA
TX MCLE credit expires: 2/29/2024
---
Preview mode. You must be signed in, have purchased this eCourse, and the eCourse must be active to have full access.