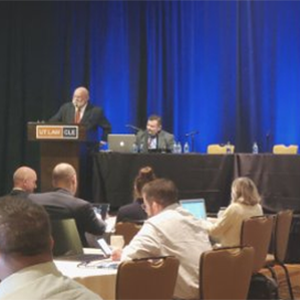 eCourse
Hooked on CLE: September 2021
Contains material from Jun 2021 to Jul 2021
Hooked on CLE: September 2021
3.77 out of 5 stars
What was the overall quality of the course (presentation, materials, and technical delivery)?
Rate the overall teaching effectiveness and presentation skills of faculty for the course.
How would you rate the value of the materials provided as part of the course?
---
very helpful topics
The first pair of speakers was not well prepared. Judge Hervey should figure out how to address the camera while reading, and Mr. Keltner, like the first panel, should work on camera angle (and forwarding his phone during a presentation).
Excellent value for courses taught!
Technical Questions?
512.475.6700
service@utcle.org
THIS MONTH: Facebook Firings • Tell the Story: Persuasive Writing and Speaking • Conducting Cost-Effective E-Discovery and the Use of Technology Assisted Review (TAR) • When the #&*! Hits the Fan: Using Executive Risk Insurance to Clean Up the Mess Before it Gets Worse • Attorney Wellness: Speaking Up, Reaching Out
Includes: Video Audio Paper Slides
Total Credit Hours:
4.00 | 1.00 ethics
TX, CA
TX MCLE credit expires: 8/31/2023
---
Preview mode. You must be signed in, have purchased this eCourse, and the eCourse must be active to have full access.