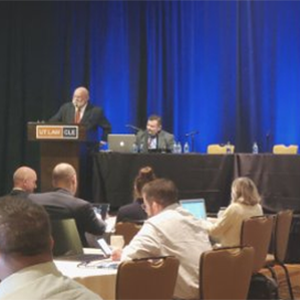 eCourse
Answer Bar: Litigating the Administrative Law Case
Contains material from Sep 2020 to Oct 2021
Answer Bar: Litigating the Administrative Law Case
4 out of 5 stars
What was the overall quality of the course (presentation, materials, and technical delivery)?
Rate the overall teaching effectiveness and presentation skills of faculty for the course.
How would you rate the value of the materials provided as part of the course?
Technical Questions?
512.475.6700
service@utcle.org
Session 1:
Navigating Your Licensing Case Pre-SOAH
- Have you ever regretted not pursuing an action or negotiation prior to SOAH? Have you ever thought there might be alternative ways to settle your case prior to SOAH that no one ever uses? And was there ever a time you wished you would have worked-up your licensing case during the agency's investigation instead of after the SOAH complaint filing? This presentation's goal is to alleviate these concerns and answer these questions.
Session 2:
Pre-Litigation: Alternative Means to Resolving Cases before SOAH
- A focus on informal proceeding processes at various state agencies to resolve agency investigations. Explore statutory and agency rule authority granting informal resolution of investigations prior to formal proceedings at SOAH.
Session 3:
Riding the Magic Unicorn: Practicalities of Filing at SOAH and the Travis County District Court
- EFiling at the State Office of Administrative Hearings can be a little different from eFiling in the courts. Learn about what SOAH needs to have to ensure your eFiling is accepted.
Session 4:
Practical Tips for Remote Depositions
- An advanced tutorial on remote depositions discussing, among other things, witness preparation, lighting, and curating your space.
Session 5:
Effective Cross-Examination at SOAH: I Fought the Law... And the Law Won
- Teaching English in alternative high schools was the best training Sue ever got as a trial lawyer. She shares her top 10 tips for "winning" at cross-examination.
Session 6:
Use and Abuse of Public Security Declaratory Judgment Actions
- Chapter 1205 of the Texas Government Code creates an expedited declaratory judgment action regarding public securities and public security authorization. This presentation examines the permissible scope of those actions: how far can they go, and how far is too far?
Session 7:
The Art of Persuasion: Winning at SOAH
- To organize and present an effective case, you need to understand not just the law, but also what will genuinely be persuasive to the judge. Explore effective ways to frame a persuasive case and to organize evidence and arguments to support it.
Session 8:
Exhaustion of Administrative Remedies
- Review the doctrine of exhaustion of administrative remedies with a particular exploration of the impact of the Fifth Circuit's decision in Nidia Heston, et al v. Austin Independent School District, 816 Fed. Appx. 977.
Session 9:
Judicial Panel
- Engage in an unscripted round-robin discussion, with time for questions from the audience.
Includes: Video Audio Paper Slides No Materials
---
Preview mode. You must be signed in, have purchased this eCourse, and the eCourse must be active to have full access.