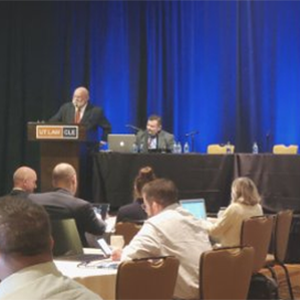 eCourse
Answer Bar: Young Attorney Challenges (Ethics)
Contains material from Sep 2017 to Aug 2021
Answer Bar: Young Attorney Challenges (Ethics)
4.5 out of 5 stars
What was the overall quality of the course (presentation, materials, and technical delivery)?
Rate the overall teaching effectiveness and presentation skills of faculty for the course.
How would you rate the value of the materials provided as part of the course?
Technical Questions?
512.475.6700
service@utcle.org
Session 1:
Life and the Law: Ethical Issues Facing the Young Lawyer
- Explore the potholes and sharp curves that await the beginning trial lawyer on the road to a successful litigation practice, through the characters and plot of a recently published novel about a young personal injury lawyer practicing in Houston.
Session 2:
The Disciplinary Process
- This presentation covers the disciplinary process, some tips on responding to a grievance, and some of the common rule violations.
Session 3:
How to Ethically Build Diverse Relationships in the Legal Profession
- Law is one of the most relational and least diverse professions in the country. Learn how to ethically address and overcome the challenges of building diverse relationships in the legal space. Explore a guide for attorneys through the pitfalls of achieving meaningful diversity and inclusive relationships in their practice, discuss tools to intentionally build and strengthen diverse relationships, and receive practical techniques to make your practice a safe and inclusive place for the diverse and non-diverse to work together.
Session 4:
Technology Use and the Ethics that Come with It
- The 2020 Covid 19 pandemic forced dramatic changes in practice styles, with most lawyers and their clients shifting from working in offices to working remotely from home. Technology was at the center of these changes with "Zoom" meetings, "e-signing," "e-filing" and related technologies playing an even more critical role in the practice of law. This panel of ethics experts will examine the issues raised by these practice shifts, including discussion of alternative technological methods of service in litigation and potential waiver of attorney-client privilege due to the misuse of technology.
Session 5:
Ethics of Social Media
- The world of social media has engulfed us all. Not only has it transformed our society, but it has worked its way into every legal field as well. Discover the ethical issues facing you as attorneys—and that of your clients—in this social media age.
Session 6:
Resilience: How to Survive and Thrive in a High Stress Practice
- Why do some people handle stress and rebound from failure better than others? We will discuss the skills and practices developed by the US Army to combat depression, fight off PTSD, and handle high stress engagements and jobs, … like being a lawyer.
Session 7:
Lawyer Wellness
-
Get evidence-based strategies to help navigate the stress of our extremely demanding profession. Learn how small changes in our daily approach to the practice of law can greatly improve work-life balance.
Includes: Video Audio Paper Slides
Total Credit Hours:
5.50 | 5.50 ethics
TX, CA
TX MCLE credit expires: 2/28/2023
---
Preview mode. You must be signed in, have purchased this eCourse, and the eCourse must be active to have full access.