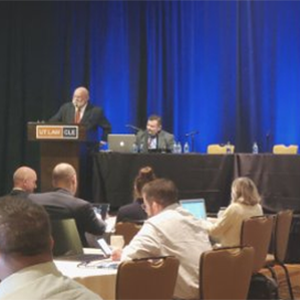 eCourse
Hooked on CLE: April 2022
Contains material from Jun 2021 to Mar 2022
Hooked on CLE: April 2022
3.63 out of 5 stars
What was the overall quality of the course (presentation, materials, and technical delivery)?
Rate the overall teaching effectiveness and presentation skills of faculty for the course.
How would you rate the value of the materials provided as part of the course?
---
AI/ML: very interesting topic, very knowledgeable speakers. As an IP lawyer I would have liked to hear discussion on the AI/IP topics, but I see that the slides clearly describe some recent issues.
Technical Questions?
512.475.6700
service@utcle.org
Session 1:
Artificial Intelligence and Machine Learning: Legal and Ethical Considerations
- How can people help AI to avoid picking up bad habits or worse, perpetuating discrimination? AI and ML are transforming people's daily lives, but at the same time raise legal and ethical concerns like bias and discrimination, fairness, IP ownership, and data rights and privacy. This panel discusses real-world examples of such concerns, the role AI and ML systems may play, and the associated legal implications.
Session 2:
Prudently Picking Your E-Discovery Team: Vendors, Forensics Experts, and More
Session 3:
Storytelling and Themes
- The power of a simple story, it can transform the room, transform your audience, transform you.
Session 4:
A Conversation with Brittany K. Barnett: Attorney, Author, and Entrepreneur
- Hear attorney, author, and entreprenuer, Brittany K. Barnett, discuss her experience and advice for others as a founder of two nonprofit organizations, as pro bono counsel representing clients incarcerated in federal prison, and as founder of social enterprises devoted to providing supports and resources to formerly incarcertated individuals.
Session 5:
Fraud Is Now Legal in Texas (for Some People)
- Three Texas intermediate appellate courts have held that corporate actors—directors, officers, managers, shareholders, and probably common employees and agents—are immune from personal liability for the fraud and misrepresentation these actors commit as long as the deceit relates to or arises from a contractual obligation of the corporation. Two and maybe three Texas appellate courts have rejected this immunity, and federal courts have also split. Courts adopting immunity claim the authority of a statute, but this immunity cannot be justified by the statute's language or history, and adopting it creates (probably unnoticed) results that confirm the legislature never intended it.
Includes: Video Audio Paper Slides
Total Credit Hours:
4.00 | 1.00 ethics
TX, CA
TX MCLE credit expires: 3/31/2024
---
Preview mode. You must be signed in, have purchased this eCourse, and the eCourse must be active to have full access.