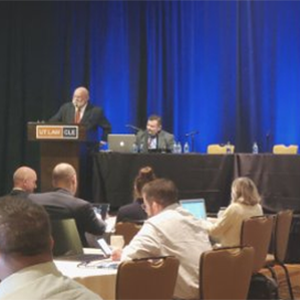 eCourse
Law in Transition: Recent Developments in Equal-Protection and Anti-Discrimination Law for Transgender People
Contains material from Jun 2022
Law in Transition: Recent Developments in Equal-Protection and Anti-Discrimination Law for Transgender People
5 out of 5 stars
What was the overall quality of the course (presentation, materials, and technical delivery)?
Rate the overall teaching effectiveness and presentation skills of faculty for the course.
How would you rate the value of the materials provided as part of the course?
---
Very well done. Please continue with a Part 2 of any developments since the initial presentation date.
Technical Questions?
512.475.6700
service@utcle.org
The last few years have seen intense development in the law regarding the rights of transgender people in schools, the workplace, sports, and beyond. This course reviews recent developments nationwide, particularly in equal-protection and anti-discrimination litigation.
Includes: Video Slides
Total Credit Hours:
1.00
TX, CA
TX MCLE credit expires: 6/30/2023
---
Preview mode. You must be signed in, have purchased this eCourse, and the eCourse must be active to have full access.
1. Law in Transition: Recent Developments in Equal-Protection and Anti-Discrimination Law for Transgender People (Jun 2022)
Jane Langdell Robinson
Preview Materials
Download session materials for offline use