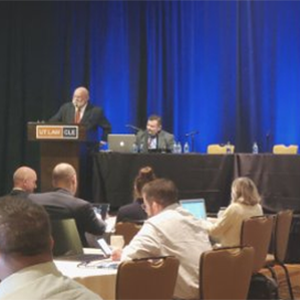 eCourse
Answer Bar: Considering a Special Needs Trust
Contains material from Feb 2018 to Apr 2022
Answer Bar: Considering a Special Needs Trust
4 out of 5 stars
What was the overall quality of the course (presentation, materials, and technical delivery)?
Rate the overall teaching effectiveness and presentation skills of faculty for the course.
How would you rate the value of the materials provided as part of the course?
Technical Questions?
512.475.6700
service@utcle.org
Session 1:
Public Benefits Overview and Key Concepts
- Hear an overview of the different public benefits programs that may impact a special needs client, and explore Texas-specific waivers as well as federal and state regulations.
Session 2:
Special Needs Trusts 101: The Basics
- An overview of the basics of special needs trusts and public benefits including selection of appropriate trust option, pitfalls to avoid and case examples.
Session 3:
Maximizing Public Benefits
- Review the basics of SSI, Medicaid and other disability benefits that trustees must know and protect; and catch up on recent changes and trends affecting trust beneficiaries who depend on those benefits.
Session 4:
ABLE: Updates and Real-Life Application
- Find an overview of Achieving a Better Life Experience (ABLE) accounts and their utility in trust administration and planning. In coordination with Special Needs Trusts (SNTs) ABLE accounts can provide autonomy and expansion of permissible purchases for beneficiaries. Hear real life examples of how SNTs and ABLE accounts work together.
Session 5:
Initial Client Meeting Guidance and Resources
- Exploring the art of focusing client appointments and staying on track.
Session 6:
Making Sense of Structured Settlements
- Structured settlements are often used to fund court-created SNTs in the personal injury context. Drafting attorneys and trustees need an understanding of the fundamental concepts of a structured settlement annuity and the effects one will have on the funding and administration of a trust.
Session 7:
Reporting a Trust
- Address practical steps in determining when, how, and to whom special needs trusts should be reported.
Session 8:
Pooled Trusts: Your Answer to Transfers and Over 65 Strategies
- Is the size of a trust no longer economically feasible? Are you worried about a transfer of assets penalty? A pooled trust sub-account be a better fit! Discuss transfers from a D4A to a D4C, the authority, the pitfalls and the successes. Solutions for people over 65 who need a self-settled SNT are limited but a pooled trusts and the "half-a-loaf" strategy may be considered as an appropriate option.
Session 9:
SSA Regional Trust Leads Presentation Regarding SSI Trusts
- A discussion with the Regional Trust Leads on the SSI trust review business process, including field office technician and Office of the General Counsel roles. Hear the latest information regarding recurring drafting mistakes.
Session 10:
SSI Application Process for Children and Adults
- The SSI application process is deceptively simple. However, there are several things applicants should keep in mind to possibly strengthen their claim or at a minimum make the process as efficient as possible. Explore the basics about the SSI process getting a claim started.
Session 11:
Masters of SNT—What I Know Now That I Wish I Had Known Back Then
- Four of our most experienced SNT attorneys share what they have learned that they don't usually talk about on microphones: how they have found the work they love; developed a passion for forms and systems; attracted and selected the best clients; built supportive and inspiring networks; and learned from their mistakes.
Includes: Video Audio Paper Slides
Total Credit Hours:
8.50 | 1.25 ethics
TX, CA
TX MCLE credit expires: 4/30/2023
---
Preview mode. You must be signed in, have purchased this eCourse, and the eCourse must be active to have full access.