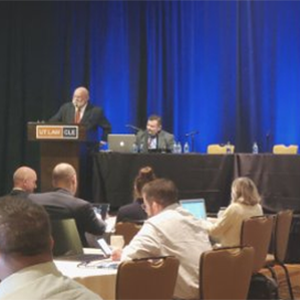 eCourse
The Business Case for Diversity, Equity, and Inclusion – Why it Matters in the Boardroom, the Courtroom, and Every Room
Contains material from Jun 2022
The Business Case for Diversity, Equity, and Inclusion – Why it Matters in the Boardroom, the Courtroom, and Every Room
4 out of 5 stars
What was the overall quality of the course (presentation, materials, and technical delivery)?
Rate the overall teaching effectiveness and presentation skills of faculty for the course.
How would you rate the value of the materials provided as part of the course?
---
Great perspectives. Would be helpful to hear how each entity represented by the panelists define DEI for their entity and how it is operationalized in each of those entities.
A stellar panel of outstanding presenters. I would like for these accomplished speakers to give some examples of their specific implementation of dei principles to achieve a business or legal success.
Excellent all around. Each speaker brought so much depth to the topic
Technical Questions?
512.475.6700
service@utcle.org
Total Credit Hours:
1.25 | 1.25 ethics
TX, CA
TX MCLE credit expires: 6/30/2023
---
Preview mode. You must be signed in, have purchased this eCourse, and the eCourse must be active to have full access.
1. The Business Case for Diversity, Equity, and Inclusion: Why it Matters in the Boardroom, the Courtroom, and Every Room (Jun 2022)
Sofia Adrogué, Hon. Ernest Aliseda, Victoria Lazar, Arturo G. Michel
1.25
1.25
0.00
1.25 | 1.25 ethics
Preview Materials
Download session materials for offline use
Session 1
—74 mins
1.25 | 1.25 ethics
The Business Case for Diversity, Equity, and Inclusion: Why it Matters in the Boardroom, the Courtroom, and Every Room (Jun 2022)
Originally presented: Jun 2022 First Friday Ethics (June 2022)
Sofia Adrogué, Diamond McCarthy LLP - Houston, TX
Hon. Ernest Aliseda, DHR Health - Edinburg, TX
Victoria Lazar, TechnipFMC - Houston, TX
Arturo G. Michel, City of Houston - Houston, TX