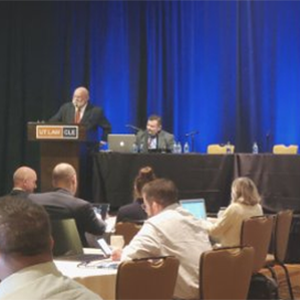 eCourse
Hooked on CLE: June 2022
Contains material from Dec 2021 to May 2022
Hooked on CLE: June 2022
3.93 out of 5 stars
What was the overall quality of the course (presentation, materials, and technical delivery)?
Rate the overall teaching effectiveness and presentation skills of faculty for the course.
How would you rate the value of the materials provided as part of the course?
---
Good information as to cross-exam techniques, crypto, and Texas gun rights.
I loved the deposition break session! Very practical.
Technical Questions?
512.475.6700
service@utcle.org
Session 1:
Lessons From the Kennedy Assassination for Cross-Examination
- If ever there was an event about which witnesses should have agreed, the assassination of President John F. Kennedy was that event, but the eyewitnesses could not agree about even the most basic details of what happened in plain view in Dealey Plaza. Why and how do eyewitnesses fail to remember correctly even the most basic details of what they observed? What can trial lawyers learn from discrepancies in witness accounts of famous historical events, including the Kennedy assassination and the sinking of the Titanic?
Session 2:
Texas' Mental Health System: Overview and Local Solutions to Address Gaps
- Hear an overview of the public mental health system in Texas and programs developed through the Southwest Texas Regional Advisory Council's Crisis Collaborative. Examine the legal basis for this system, the roles of each type of facility, points of access, and funding. Learn how efforts to implement collaborative, local solutions at the cross-payor level have addressed crisis responses and are now attempting to move upstream to address access to care before mental health crises arise.
Session 3:
Insights into Cryptocurrency for Nonprofits
- Join Armanino's digital assets and nonprofit experts to learn about market trends in cryptocurrency; Bitcoin and how it can diversify your organization's investment portfolio; and cryptocurrency opportunities for nonprofit organizations.
Session 4:
Gun Rights: An Overview of the Rights of Landlords and Tenants
-
Session 5:
Approaches to Privilege During Deposition Breaks
- In an age of Zoom depositions, it is more important than ever to understand that different jurisdictions take different approaches the question of privilege during deposition breaks, with some disallowing any privilege at all once the deposition commences and others taking a more nuanced approach. Join Jason Boulette as he explores these different approaches, what they share in common, and where they differ sharply.
Includes: Video Audio Paper Slides
Total Credit Hours:
4.00 | 1.00 ethics
TX, CA
TX MCLE credit expires: 5/31/2023
---
Preview mode. You must be signed in, have purchased this eCourse, and the eCourse must be active to have full access.