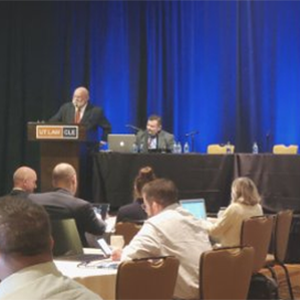 eCourse
Answer Bar: Oil, Gas and Energy Agreements and Contracting Essentials
Contains material from Jul 2017 to May 2022
Answer Bar: Oil, Gas and Energy Agreements and Contracting Essentials
4.5 out of 5 stars
What was the overall quality of the course (presentation, materials, and technical delivery)?
Rate the overall teaching effectiveness and presentation skills of faculty for the course.
How would you rate the value of the materials provided as part of the course?
Technical Questions?
512.475.6700
service@utcle.org
Session 1:
Midstream 101: A Primer on Understanding Midstream Contracts and Identifying Key Issues
- Explore midstream transactions and the contracts commonly utilized in the industry to gather, transport, and process oil and gas. Work through commercial and regulatory considerations and key issues when drafting midstream contracts.
Session 2:
Update On Midstream Agreements in Bankruptcy—From Sabine to Southland and Beyond
- Many recent E&P bankruptcies have grappled with the characterization of midstream agreements as either contractual rights that can be rejected or real property interests that ride through unaffected. This presentation analyzes the ever-shifting legal landscape, which has seen midstream agreements characterized as both, leading to a widening split in the courts and uncertainty in the industry.
Session 3:
Emerging and Re-Emerging Issues in the Use of Surface for Oil and Gas Operations
- Explore the nature and extent of the implied easement to use the surface, and a framework for analyzing the accommodation doctrine. Also hear a survey of emerging and re-emerging issues involving conflicting uses of the surface estate, including conflicts with renewable projects, saltwater disposal operations, sand mining, and subsurface easements.
Session 4:
Joint Operating Agreements – Understanding and Application
- Understanding the key components of the JOA and a consideration of recurring issues with emphasis on horizontal drilling and allocation wells. How the JOA works, what doesn't work, some suggested Article XVI provisions and some new unanswered questions.
Session 5:
JOA Negotiation: Operator and Non-Operator Perspectives
- Review key provisions of the American Association of Petroleum Landmen 610 Model Form Operating Agreement from both the operator's and non-operator's perspectives.
Session 6:
MSA Negotiations
- A mock negotiation of a master service agreement with particular attention paid to the insurance and indemnity provisions to ensure an effective risk allocation program.
Session 7:
A Primer on Oil and Gas Transportation Agreements: Key Issues & Considerations
- Explore midstream transactions and the contracts commonly utilized in the energy industry governing the movement of oil and gas from the wellhead to a point downstream for resale or further handling. Work through commercial and regulatory considerations and key issues when analyzing and negotiating transportation contracts.
Session 8:
Split Estate Issues (Mineral, Wind, Solar and Water)
- Explore competing uses, common conflicts, and potential solutions.
Session 9:
Make Peace, Not War: Negotiating and Drafting Accommodation Agreements in the Oil and Gas Industry with Wind and Solar Companies
-
A brief discussion of the basic elements of a comprehensive accommodation agreement, which shall include pitfalls to avoid in drafting such agreements, as well as an overview of typical accommodation issues and how best to resolve them.
Session 10:
Communication with Opposing Counsel and Landowners
- Common law rules, the fields of tort and contract, as well as rules of professional ethics, govern a lawyer's or landman's negotiations on behalf of a client. By remaining mindful of these rules, including how the rules differ depending on whether you are negotiating with opposing counsel or a landowner, you can stay out of trouble and better serve your client.
Session 11:
Nuts and Bolts Ethics for the Business and Transactional Lawyer
-
Engage in a practical discussion of current ethics topics related to business and transactional law, including conflicts issues, and attorney migration between firms.
Includes: Video Audio Paper Slides
Total Credit Hours:
7.50 | 1.75 ethics
TX, CA
TX MCLE credit expires: 9/30/2023
---
Preview mode. You must be signed in, have purchased this eCourse, and the eCourse must be active to have full access.