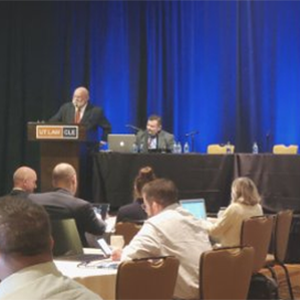 eCourse
First Friday Ethics (October 2022)
Contains material from Mar 2022 to Aug 2022
First Friday Ethics (October 2022)
4.05 out of 5 stars
What was the overall quality of the course (presentation, materials, and technical delivery)?
Rate the overall teaching effectiveness and presentation skills of faculty for the course.
How would you rate the value of the materials provided as part of the course?
---
Good info
Well done material, well presented
Excellent session!
Technical Questions?
512.475.6700
service@utcle.org
Need ethics credit? We've got you covered! UT Law CLE's First Friday Ethics streams live every first Friday of the month, and features some of our best ethics speakers and presentations for a total of 3.00 hrs ethics credit. Fulfill your entire annual ethics requirement in Texas in one day!
This month includes:
(1.00 hr | 1.00 hr ethics)
Overcoming Imposter Syndrome (REPLAY)
Kiele Linroth Pace, Pacefirm Consulting, LLC - Austin, TX

(1.00 hr | 1.00 hr ethics)
Approaches to Privilege During Deposition Breaks (REPLAY)
Jason Boulette, Boulette Golden & Marin L.L.P. - Austin, TX

(0.50 hr | 0.50 hr ethics)
Pro Bono Opportunities for Business Attorneys (REPLAY)
Angela L. Lee, TALA - Austin, TX
Adrian Resendez, Brough & Resendez PLLC - Austin, TX

(0.50 hr | 0.50 hr ethics)
What Every Attorney Needs to Know About Cybersecurity (REPLAY)
Jennifer S. Freel, Jackson Walker LLP - Austin, TX
Co-Author
David Springer, Dropbox, Inc. - Austin, TX
Includes: Video Audio Paper Slides
Total Credit Hours:
3.00 | 3.00 ethics
TX, CA
TX MCLE credit expires: 9/30/2023
---
Preview mode. You must be signed in, have purchased this eCourse, and the eCourse must be active to have full access.