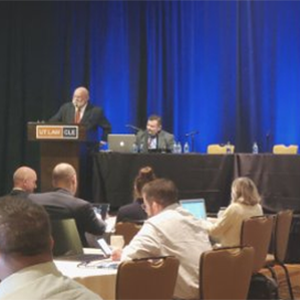 eCourse
Answer Bar: Taking on the Car Crash Client
Contains material from Aug 2018 to Oct 2022
Answer Bar: Taking on the Car Crash Client
4 out of 5 stars
What was the overall quality of the course (presentation, materials, and technical delivery)?
Rate the overall teaching effectiveness and presentation skills of faculty for the course.
How would you rate the value of the materials provided as part of the course?
Technical Questions?
512.475.6700
service@utcle.org
Session 1:
First Contact, Case Evaluation, and Client Expectations
- Learn how to assess who has a claim, potential conflicts, how to evaluate the potential liability, damages, and costs of the case, and how to manage your client's expectations about their case.
Session 2:
Investigation and Insurance
- Examine critical aspects of the crash investigation, including the identification of potential parties and the myriad of potentially applicable insurance coverages.
Session 3:
Recent Developments in Prosecuting and Defending UM/UIM Actions
- Leading lawyers for plaintiffs and insurers present and discuss recent developments regarding attorney's fees and discovery issues in UM/UIM cases.
Session 4:
Injury Causation in Low Property Damage Cases
- Hear from plaintiff and defense attorneys on best practices for assessing injuries in low property damage cases, including a review of the rationale behind these assessments.
Session 5:
Medical Specials: The Defendant's and Plaintiff's Perspective
- This presentation navigates the new changes and recent case law challenges regarding CPRC 18.001. Learn what to file and what to argue, including an overview of both the defendant's challenges and the plaintiff's defense of 18.001 affidavits.
Session 6:
Notice to Potential Defendants and Pre-Suit Demands
- Review what to include in your pre-suit demand, as well as how to provide notice to potential defendants and their insurers.
Session 7:
Pre-Suit Settlement
- Discuss considerations such as IOLTA requirements, liens and subrogation, and the potential net to your client.
Session 8:
Subrogation and Liens
- The topic everyone loves to hate…made a little less painless with a comprehensive overview of Medicare, Medicaid, worker's comp, ERISA and self-funded vs insured, hospital liens, child support liens, and attorney liability. Learn how to protect yourself and your client/insured.
Session 9:
Negotiating with Insurance Adjusters
- Learn how to maximize case value through preparation and presentation of the demand package.
Session 10:
Routine Ethical Issues for the Car Crash Trial Lawyer
- This presentation addresses the everyday ethical issues that arise in the prosecution and defense of personal injury cases.
Session 11:
Recent Changes to the Advertising and Solicitation Rules: The Highlights
- Comprehensive changes to the Texas Disciplinary Rules governing advertisements and solicitations became effective in 2021. This presentation highlights some of the most notable changes.
Includes: Video Audio Paper Slides
Total Credit Hours:
6.50 | 2.00 ethics
TX, CA
TX MCLE credit expires: 2/29/2024
---
Preview mode. You must be signed in, have purchased this eCourse, and the eCourse must be active to have full access.