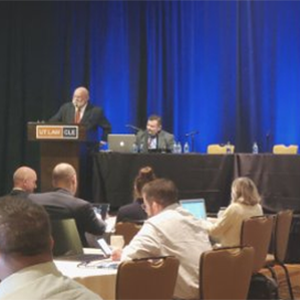 eCourse
Answer Bar: Taking Your Car Crash Case to Trial
Contains material from Aug 2018 to Oct 2022
Answer Bar: Taking Your Car Crash Case to Trial
5 out of 5 stars
What was the overall quality of the course (presentation, materials, and technical delivery)?
Rate the overall teaching effectiveness and presentation skills of faculty for the course.
How would you rate the value of the materials provided as part of the course?
Technical Questions?
512.475.6700
service@utcle.org
Session 1:
Trial Preparation 101
- Stressed in trial prep and at trial? Inevitable? Yes. Manageable? Absolutely. Learn tips and strategies from an experienced plaintiff and defense attorney for developing a case and preparing for trial.
Session 2:
View from the Bench: Trial Basics
- Hear observations and guidance from a trial judge.
Session 3:
Accident Reconstruction Deconstructed
- Technology and resources available today can allow post-accident physical evidence to resolve many fact disputes about how an incident happened, who was at fault, and reveal potential gross negligence facts. Learn what top experts can do for the right case, what the law allows you to do with this information, and what reconstruction resources are available for more modest value cases.
Session 4:
Overcoming "Bad Facts" A Plaintiff and Defense Perspective
- Tips and tricks to deal with low property damage, pre-existing conditions, gaps in treatment, lack of medical bills, DWI, criminal clients, and more at trial.
Session 5:
Seatbelts and Police Officer Testimony
- Evidence about seat belts and the investigating officer's opinions has the potential to be outcome determinative in a car crash case. What evidence should come before the jury, and what should be kept out?
Session 6:
Medical Expenses in Car Crash Cases after In re Allstate: an Update from Discovery to Trial
- This presentation discusses the nuts and bolts of proving or challenging medical expenses in car crash cases, including: the current state of TCPRC Section 18.001 after In re Allstate, strategies for striking (or not striking) 18.001 counter-affidavits, the use of depositions by written questions, and other non-party and expert discovery issues arising from recent Texas Supreme Court case law.
Session 7:
Trying Cases Without Medical Bills
- Texas law has made it difficult to try cases with our medical bills. That burden creates an avenue to trying cases without them and opening doors to greater potential verdicts.
Session 8:
Storytelling and Themes
- The power of a simple story, it can transform the room, transform your audience, transform you.
Session 9:
Assessing and Proving Mental Anguish Damages in Personal Injury Cases
- A practitioner's guide to assessing and presenting evidence of compensable mental anguish damages in deposition and trial.
Session 10:
Proving Up Future Damages
- Including medical and lost wages.
Session 11:
Developing a Winning Deposition Strategy
- Discuss the fail-safe tricks to ensure you have a winning strategy at depositions.
Session 12:
Overcoming the Problem Witness
- How to handle the difficult witness, yours or theirs.
Session 13:
Beating the Expert
- Find out how to take an expert's deposition—how to avoid being intimidated and how to set realistic, attainable goals when you depose the "expert."
Session 14:
Developing Your Trial Cross Through the Adverse Deposition?
- Learn to take admission-seeking depositions of adverse witnesses so that they are effectively limited in their testimony at trial.
Session 15:
Preparing Your Witness for Deposition
- Witnesses win cases—and lose them. Learn how to keep your witness from giving it all up in a deposition and how to use the deposition to help prepare your witness to be a winner at trial.
Includes: Video Audio Paper Slides
Total Credit Hours:
9.50 | 0.25 ethics
TX, CA
TX MCLE credit expires: 2/29/2024
---
Preview mode. You must be signed in, have purchased this eCourse, and the eCourse must be active to have full access.