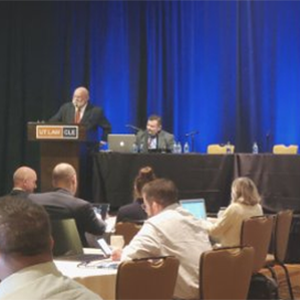 eCourse
2022 Current Issues in Business Bankruptcy: Chapter 11 Plans; Federal Energy Policy and Bankruptcy; Healthcare; and the Role of Independent Directors in Chapter 11
Contains material from Jan 2023
2022 Current Issues in Business Bankruptcy: Chapter 11 Plans; Federal Energy Policy and Bankruptcy; Healthcare; and the Role of Independent Directors in Chapter 11
Not yet rated
Technical Questions?
512.475.6700
service@utcle.org
Session 1:
Hot Topics in Chapter 11 Plans, Disclosure Statements, and Confirmation
- This panel will cover the latest trends in chapter 11 plans and disclosure statements, including current practices related to restructuring support agreements, the use of disclosure statements, discharge eligibility, and more.
Session 2:
The Intersection of Federal Energy Policy and the Bankruptcy Code
- With energy transition, ESG, the SEC's proposed climate change disclosure regulations and the ever increasing environmental compliance costs before us, this panel will discuss the ramifications of the Fifth Circuit's decisions in Mirant and Ultra on all federal agencies regulating the energy industry and the Bankruptcy Court's role in determining whether a plan of reorganization is consistent with public policy as it relates to our country's energy policy and fairly allocates the cost of environmental clean-up.
Session 3:
Hot Topics in Healthcare? What Happens When Stimulus Money Dries Up
- Gain insight into legal and financial challenges facing healthcare providers in a post-pandemic economy.
Session 4:
Examining the Role of Independent Directors in Chapter 11s
- A discussion on the roles of Independent Directors in overseeing, formulating and negotiating a debtor's restructuring.
Includes: Video Audio Paper Slides
Total Credit Hours:
3.00 | 0.25 ethics
TX, CA
TX MCLE credit expires: 2/29/2024
---
Preview mode. You must be signed in, have purchased this eCourse, and the eCourse must be active to have full access.