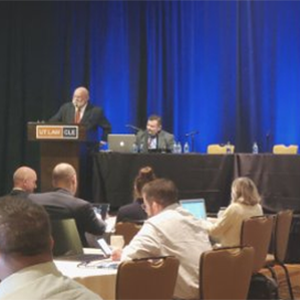 eCourse
Corporate Compliance Essentials
Complete Series
Contains material from Oct 2017 to Nov 2017
Corporate Compliance Essentials
Complete Series
3.9 out of 5 stars
What was the overall quality of the course (presentation, materials, and technical delivery)?
Rate the overall teaching effectiveness and presentation skills of faculty for the course.
How would you rate the value of the materials provided as part of the course?
---
It would have been good to get more examples in writing of the policies and programs discussed, rather than just flow charts and goals of the programs. Abstract discussions are great, but practical tools are really necessary in this area. Thanks!
This was a great course. It started out with an overview and then gave a lot of specific examples. The panelists were very knowledgeable and were from a good mix of businesses, in that each one had different challenges that they needed to emphasize in their compliance programs.
Technical Questions?
512.475.6700
service@utcle.org
There is no "one-size fits all" compliance program. Each compliance program begins with a deep understanding of the business and risk environment. Program design considers the end business user and creates a structure that is mapped to different risks and regulations through a compliance framework that shares common themes irrespective of the type of business or subject matter.
Join us online for this six-part series that walks through the legal and regulatory framework, core principles, and key components of a successful compliance program.
Includes: Video Audio Slides
Total Credit Hours:
7.25
TX, CA
TX MCLE credit expires: 10/31/2023
---
Preview mode. You must be signed in, have purchased this eCourse, and the eCourse must be active to have full access.