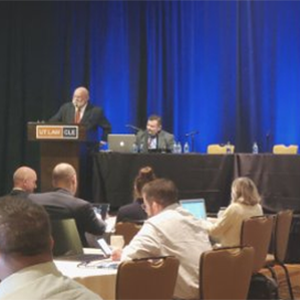 eCourse
Ethics of Contract Drafting
Contains material from Sep 2020
Ethics of Contract Drafting
4.44 out of 5 stars
What was the overall quality of the course (presentation, materials, and technical delivery)?
Rate the overall teaching effectiveness and presentation skills of faculty for the course.
How would you rate the value of the materials provided as part of the course?
---
Well-done, but please turn OFF computer sounds (alerts, etc.) while presenting - - the beeps and chimes during the session were distracting.
It was great but his email delivery signal kept going off throughout. I wish he had silenced that before he started.
There was a glitch in the audio and constant bells sounding throughout the presentation that were distracting.
This was extremely helpful. It's an important topic and it was taught well with great, practical examples.
great presenter
Good presenter. There was an annoying "bell ringing" throughout the presentation. Could be the computer on my end, but sounded like a "ding" you get when an email arrives. Anyway, I like the presenter's style and practical approach.
Claude is a delight. Very helpful.
Very good
Excellent
very useful ethical presentation for transactional lawyers
Excellent speaker engagement and detailed materials
Technical Questions?
512.475.6700
service@utcle.org
Total Credit Hours:
1.00 | 1.00 ethics
TX, CA
TX MCLE credit expires: 9/30/2023
---
Preview mode. You must be signed in, have purchased this eCourse, and the eCourse must be active to have full access.
1. Ethics of Contract Drafting (Sep 2020)
Claude E. Ducloux
1.00
1.00
0.00
1.00 | 1.00 ethics
Preview Materials
Download session materials for offline use
Session 1
—57 mins
1.00 | 1.00 ethics