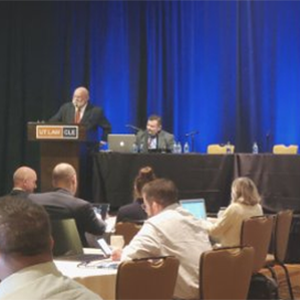 eCourse
Renewable Energy Law Essentials
Contains material from Jan 2021
Renewable Energy Law Essentials
4.15 out of 5 stars
What was the overall quality of the course (presentation, materials, and technical delivery)?
Rate the overall teaching effectiveness and presentation skills of faculty for the course.
How would you rate the value of the materials provided as part of the course?
---
No video but the materials were very good.
helpful
This was wonderful! I'm a rank beginner at this, and so might need to review PPA's a bit before I fully understand the last presentation. But I appreciate the challenge. All four presenters (and moderator) were well-prepared and fascinating.
Technical Questions?
512.475.6700
service@utcle.org
Session 1:
ALTA & Title Basics (for non-Texas title matters)
-
Session 2:
Mineral Estate Issues in Solar Energy Projects in Texas
- Dive in to the various issues solar developers may face when developing solar projects in areas where mineral production is, or has been, active. Explore recent tactics developers have used to mitigate the risk associated with developing a solar project in an active mineral area.
Session 3:
Wind vs. Solar Lease
- Although both leases have similar provisions, they also vary due to the nature of the installed improvements. Explore the similarities and the differences between the two leases.
Session 4:
PPAs
- An overview of the different power purchase agreement structures, including physical PPAs, financial PPAs, hedges and others, and the considerations that go into choosing a particular structure.
Includes: Video Paper Slides
Total Credit Hours:
2.25
TX, CA
TX MCLE credit expires: 12/31/2022
---
Preview mode. You must be signed in, have purchased this eCourse, and the eCourse must be active to have full access.