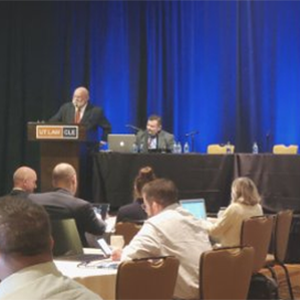 eCourse
Answer Bar: Dealing with Mineral Rights in Estate Planning and Probate
Contains material from Aug 2017 to Sep 2020
Answer Bar: Dealing with Mineral Rights in Estate Planning and Probate
4.89 out of 5 stars
What was the overall quality of the course (presentation, materials, and technical delivery)?
Rate the overall teaching effectiveness and presentation skills of faculty for the course.
How would you rate the value of the materials provided as part of the course?
---
Great course!
Very well put together
Technical Questions?
512.475.6700
service@utcle.org
Session 1:
Estate Planning 101
- A very practice oriented nuts & bolts overview / how-to / to-do for basic estate planning, from the initial contact, planning conference & terms of engagement, to the signing ceremony, exit letter & beyond, with forms, options and insights for what is and is not appropriate depending on the circumstances.
Session 2:
Dealing with Mineral Rights: A Practitioners Guide to Oil and Gas
- Learn the basics of oil and gas, including mineral rights, royalties, and executive rights, while dealing with Texas issues and problems in probate, trust, elder care, and other areas.
Session 3:
Drafting Wills and Trusts for Efficient Administration
- Hear a panel of corporate trustee's discuss how they administer the wills and trusts we draft and what they would like to see in our documents. Learn what to do if a beneficiary is pushing too much.
Session 4:
Fixing Real Estate Headaches: Deeds, Trusts, and Title Issues
- An overview of how to identify and address real estate issues unique to estate planners such erroneous deeds (possibly from years ago), chain of title errors, lost trusts, and more.
Session 5:
Real Estate Owned with Others
- An overview of the newly passed Uniform Partition of Heirs Property Act (UPHPA) and how it can impact the severance of jointly owned property.
Session 6:
10 Pesky Probate Problems
- Hear 10 tips for new (and not so new) practitioners addressing various problems which arise during the probate process, such as dealing with collection agencies, taking control of estate property from those without authority, properly allocating rights and liabilities associated with jointly owned property, dealing with the IRS, and other "pesky" problems.
Session 7:
Probate Procedures & Alternatives
- A discussion of whom you represent, fee considerations, options and alternatives to probating a will, what to consider when there is no will, what to look for when reviewing a will, the mechanics of getting to the probate hearing, default and lost will issues, and issues in administering a simple estate. Comprehensive forms will also be provided.
Session 8:
Deed Drafting in Estate Planning and Probate Contexts
- Using the correct deed for a client is essential to prevent future problems. Distinguish the various deeds and which deed is correct in the estate planning or probate context.
Session 9:
Individual Fiduciaries Gone Wild
- Executors, trustees, and other fiduciaries own the highest duties known to law and are held to strict standards of conduct. Explore the inherent risks of serving as an executor or trustee and hear suggestions for fiduciary risk management, defending breach of fiduciary duty claims, and related causes of action. Hear tips for advising clients on the appointment fiduciaries in an attempt to avoid future fiduciary litigation.
Includes: Video Audio Paper Slides
---
Preview mode. You must be signed in, have purchased this eCourse, and the eCourse must be active to have full access.