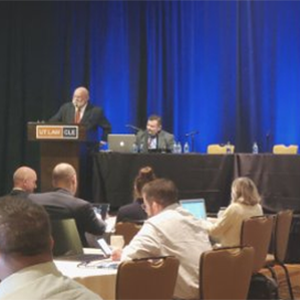 eCourse
Hooked on CLE: April 2021
Contains material from Aug 2020 to Mar 2021
Hooked on CLE: April 2021
3.92 out of 5 stars
What was the overall quality of the course (presentation, materials, and technical delivery)?
Rate the overall teaching effectiveness and presentation skills of faculty for the course.
How would you rate the value of the materials provided as part of the course?
---
Well done, but an odd mixture of topics.
I especially liked Dana Harmon's presentation about energy for underserved communities. Looking for more courses about equity and systems that impact underserved communities. Also, Investigations in the C-Suite presenter was excellent.
These courses imparted good thoughtful challenging information.
Technical Questions?
512.475.6700
service@utcle.org
THIS MONTH: Both Sides Now: When Lawyers Go Too Far • Energy Insecurity and Other Issues for Underserved Communities • Late-in-Life Bankruptcies • Investigations in the C-Suite • Emerging, Disruptive, Game-Changing Technology
Includes: Video Audio Paper Slides No Materials
Total Credit Hours:
4.00 | 1.00 ethics
TX, CA
TX MCLE credit expires: 3/31/2023
---
Preview mode. You must be signed in, have purchased this eCourse, and the eCourse must be active to have full access.