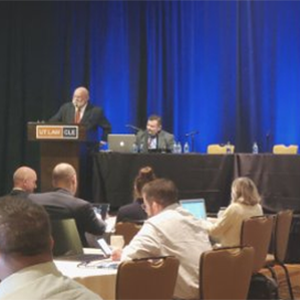 eCourse
Hooked on CLE: June 2021
Contains material from Sep 2020 to May 2021
Hooked on CLE: June 2021
4.07 out of 5 stars
What was the overall quality of the course (presentation, materials, and technical delivery)?
Rate the overall teaching effectiveness and presentation skills of faculty for the course.
How would you rate the value of the materials provided as part of the course?
---
on point and delivered effectively
The supporting materials for "too many entities" was lacking. The real estate fixes was an excellent program. Disaster Planning was a bit more general, but having rebuilt my practice after Harvey in Rockport, my knowledge is a bit more in depth in some areas. I also was on the State Bar FEMA committee back when we had one in the mid 1990s. Learned a lot from the tornado in Fort Worth and the Houston floods.
Technical Questions?
512.475.6700
service@utcle.org
Session 1:
Building a Disaster Plan for Your Law Practice
- Join Hannah Dyal as she explores: is your law firm ready for a disaster and how to prepare. This presentation will give firms and solo practitioners tips for how to begin building a disaster plan for their law practice.
Session 2:
Dram Shop Cases: When the Bar Causes the Crash
- There's an extra party that often belongs in the car crash case—a dram shop that overserved one of the drivers.
Session 3:
Fixing Real Estate Headaches: Deeds, Trusts, and Title Issues
- An overview of how to identify and address real estate issues unique to estate planners such erroneous deeds (possibly from years ago), chain of title errors, lost trusts, and more.
Session 4:
Analyzing Your Contract Through the Eyes of a Litigator and Jury
- Examine the common causes of action coming out of a breach of contract, review the state statutory and case law regarding common contract provisions, and understand different perspectives of the transactional attorney and the litigator on the same agreement so that you can ask and answer important questions that may change the drafting of the agreement in the first place.
Session 5:
Too Many Entities
- As more "deals" are put together, more entities are used to facilitate the "deal." Assess the huge liability risk for clients and lawyers if litigation is the end result.
Includes: Video Audio Paper Slides
Total Credit Hours:
4.00 | 1.00 ethics
TX, CA
TX MCLE credit expires: 5/31/2022
---
Preview mode. You must be signed in, have purchased this eCourse, and the eCourse must be active to have full access.