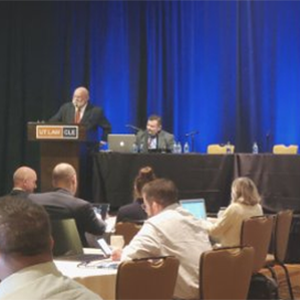 eCourse
eSupplement to the 31st Annual Conference on State and Federal Appeals
Contains material from Jul 2020 to Mar 2021
eSupplement to the 31st Annual Conference on State and Federal Appeals
4.73 out of 5 stars
What was the overall quality of the course (presentation, materials, and technical delivery)?
Rate the overall teaching effectiveness and presentation skills of faculty for the course.
How would you rate the value of the materials provided as part of the course?
---
Very good presentations.
Technical Questions?
512.475.6700
service@utcle.org
Session 1:
The Votes Are In! Your Rights and Responsibilities Under the Newly Amended Texas Disciplinary Rules
- Join Claude and Scott for a first-look at the results of the referendum on changes to rules of conduct and procedure. How will the approved changes impact your practice?
Session 2:
​One Judge, Four Benches: A Perspective on Effective Advocacy
- In nearly two decades on the bench, Judge Jeff Brown has served in both the state and federal systems, on two trial courts and two appellate courts. Based on that experience, he'll share tips for productively pressing your client's case.
Session 3:
U.S. Supreme Court Update for Criminal Appeals -
Hear an update on criminal law and criminal procedure cases relevant to Texas criminal appellate practice that were heard and decided by the United States Supreme Court in the 2019 term, and get a preview of hot cases in the pipeline for the 2020 term.
Session 4:
Making Work-From-Home Work for You: Strategies for Coping During COVID-19 -
A discussion on work-home balance when you can't seem to escape either.
Includes: Video Audio Paper Slides
Total Credit Hours:
2.75 | 1.00 ethics
TX, CA
TX MCLE credit expires: 5/31/2022
---
Preview mode. You must be signed in, have purchased this eCourse, and the eCourse must be active to have full access.