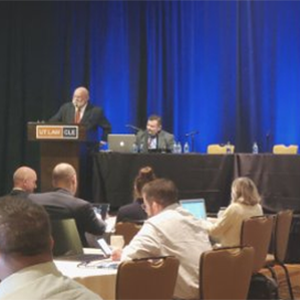 eCourse
Hooked on CLE: August 2021
Contains material from Apr 2021 to Jun 2021
Hooked on CLE: August 2021
3.97 out of 5 stars
What was the overall quality of the course (presentation, materials, and technical delivery)?
Rate the overall teaching effectiveness and presentation skills of faculty for the course.
How would you rate the value of the materials provided as part of the course?
---
Very educational. Scared now of ransomware and hacking! He was great, although there was an echo on my video player for him. Paying the Family Caregiver seemed more of a political statement than an informative session. The speaker on teacher/student relations needs to work on her "ummms" but otherwise informative.
good.
Technical Questions?
512.475.6700
service@utcle.org
THIS MONTH: Responsibility of Outside Counsel to Protect Client Information • #MeToo, Part 2 • Paying the Family Caregiver • Overcoming the Problem Witness • ​What Do You Do When the Feds Show Up? Advice for In-House Counsel and Corporate Executives • Teacher-Student Contact on Social Media
Includes: Video Audio Paper Slides
Total Credit Hours:
4.00 | 1.00 ethics
TX, CA
TX MCLE credit expires: 7/31/2023
---
Preview mode. You must be signed in, have purchased this eCourse, and the eCourse must be active to have full access.