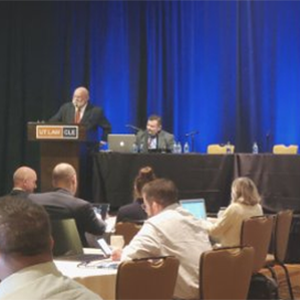 eCourse
Voir Dire Becomes Voir Google: Ethical Concerns of 21st Century Jury Selection
Contains material from Aug 2021
Voir Dire Becomes Voir Google: Ethical Concerns of 21st Century Jury Selection
4 out of 5 stars
What was the overall quality of the course (presentation, materials, and technical delivery)?
Rate the overall teaching effectiveness and presentation skills of faculty for the course.
How would you rate the value of the materials provided as part of the course?
---
Unique course and good course
Technical Questions?
512.475.6700
service@utcle.org
Engaging in online research about prospective jurors can yield game-changing information, but there are ethical risks for lawyers in doing so. Using real world examples from cases and ethics opinions, this program offers invaluable guidance for lawyers in navigating the ethical boundaries of turning voir dire into "voir Google."
Includes: Video Paper Slides
Total Credit Hours:
1.00 | 1.00 ethics
TX, CA
TX MCLE credit expires: 8/31/2023
---
Preview mode. You must be signed in, have purchased this eCourse, and the eCourse must be active to have full access.
1. Voir Dire Becomes Voir Google: Ethical Concerns of 21st Century Jury Selection (Aug 2021)
John G. Browning
1.00
1.00
0.00
1.00 | 1.00 ethics
Preview Materials
Download session materials for offline use
Session 1
—59 mins
1.00 | 1.00 ethics
Voir Dire Becomes Voir Google: Ethical Concerns of 21st Century Jury Selection (Aug 2021)
Engaging in online research about prospective jurors can yield game-changing information, but there are ethical risks for lawyers in doing so. Using real world examples from cases and ethics opinions, this program offers invaluable guidance for lawyers in navigating the ethical boundaries of turning voir dire into "voir Google."
Originally presented: Aug 2021 First Friday Ethics (August 2021)
John G. Browning, Spencer Fane - Plano, TX