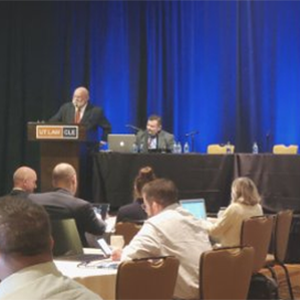 eCourse
Answer Bar: Elder Law and Medicaid Essentials
Contains material from Sep 2018 to Jan 2022
Answer Bar: Elder Law and Medicaid Essentials
3.75 out of 5 stars
What was the overall quality of the course (presentation, materials, and technical delivery)?
Rate the overall teaching effectiveness and presentation skills of faculty for the course.
How would you rate the value of the materials provided as part of the course?
---
Highly focused on MERP. Maybe add a bit more on other topics.
Excellent presentations, great variety
Technical Questions?
512.475.6700
service@utcle.org
Session 1:
Medicaid Update
- Latest developments affecting planning and applications for Medicaid to pay for nursing home care and home care, including policies exempting certain retirement accounts from countable assets, how to deal with barriers to Medicaid home care, and status of Lady Bird Deeds and Transfer on Death Deeds
Session 2:
Overview of Medicaid Planning
- What non-elder law attorneys need to know about planning for long-term care.
Session 3:
The View from 30, 000 feet – Medicaid Myths All Attorney's Should Know
- Join Stephanie as she explains Medicaid and Medicare mythbusting and challenges common misconceptions about: MERP, Medicaid, and Medicare, as well as protecting the home and other assets with Transfer on Death Planning and Couples Planning for Medicaid.
Session 4:
Drafting for Incapacity Definition in Trusts and Powers of Attorney
- Examine the commonly-used definitions of incapacity, individually-created definitions of incapacity, and the pros and cons of using common definitions versus creative language.
Session 5:
Advising Clients Nearing 65
- Turning 65 can be a watershed event in our client's lives. They face many decisions about retirement, concerning Medicare, Social Security, and estate planning. Get tips to help you prepare to advise your clients about some of these important decisions.
Session 6:
Top Ten Medicaid Estate Recovery Issues - 2019 and Forward
- Texas Health and Human Services Commission and Office of Inspector General-MERP resolved several MERP issues in 2019 and early 2020 but there are still outstanding issues that must be addressed by practitioners. The author will provide an overview of changes and suggested good practices in resolving MERP issues.
Session 7:
Role of the Guardian
- Examine the duties and responsibilities of a guardian under Texas law and guardianship administration, from initiation to closing, including the code requirements of selling and leasing property, ethical issues, and more.
Session 8:
Alternatives to Guardianship Including Support Services
- Exploring the range of supports and services and alternatives to guardianship and a decision tree to determine the necessity of a guardianship in the continuum of care, including an update on capacity assessment tools.
Session 9:
Out of the Woodwork: Unethical Practices by Geriatric Professionals
- With the increase of an aging population, comes an increase in service providers willing and wanting to help older adults. Not every professional has the client's best interest in mind. A summary of professionals that may take advantage of clients and how to spot them will be discussed, as well as what type of credentialing the professionals should have.
Session 10:
Medicaid Matters and Probate Proceedings
- Join Stephanie as she explores how to protect homes from the Medicaid Estate Recovery Program [MERP] through probate proceedings, in addition to understanding the basics of protecting homes from the reach of MERP in the first place. Independent administrations may not always be the best choice, particularly in cases where no statutory waivers apply.
Includes: Video Audio Paper Slides
---
Preview mode. You must be signed in, have purchased this eCourse, and the eCourse must be active to have full access.