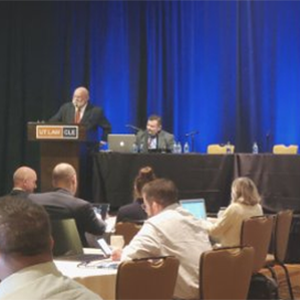 eCourse
First Friday Ethics (June 2022)
Contains material from Mar 2021 to Jun 2022
First Friday Ethics (June 2022)
4.3 out of 5 stars
What was the overall quality of the course (presentation, materials, and technical delivery)?
Rate the overall teaching effectiveness and presentation skills of faculty for the course.
How would you rate the value of the materials provided as part of the course?
Technical Questions?
512.475.6700
service@utcle.org
Need ethics credit? We've got you covered! UT Law CLE's First Friday Ethics streams live every first Friday of the month, and features some of our best ethics speakers and presentations for a total of 3.00 hrs ethics credit. Fulfill your entire annual ethics requirement in Texas in one day!
This month includes:
The Business Case for Diversity, Equity, and Inclusion – Why it Matters in the Boardroom, the Courtroom, and Every Room
Sofia Adrogué, Diamond McCarthy LLP - Houston, TX
Carolyn Benton Aiman, Sempra Infrastructure LLC, Houston, TX
Hon. Ernest Aliseda, DHR Health, Edinburg, TX
Victoria Lazar, TechnipFMC, Houston, TX
Arturo G. Michel, City of Houston, Houston, TX
Understanding How Pro Bono Works and Ways to Navigate
This presentation explains why pro bono is important for you, your firm, and your community. Learn how to navigate your pro bono journey and start making it rain for your soul.
Tu N. Nguyen, The Law Office Tu Nguyen, PLLC - Dallas, TX
Job Duties: Ethical Challenges in the Attorney-Paralegal Relationship
This session reviews common ethical pitfalls in the attorney-paralegal relationship, including avoiding inadvertent breaches of confidentiality and the unauthorized practice of law.
Lynn Crossett, Texas State University-San Marcos, TX
Ethics: Are You Phoning it In? The Ethical Perils of Practicing Law from Your Cell Phone
A review of the rules relating to ethical cell phone usage and how they correspond to our duties as lawyers.
Jaime Garcia,
J. Cruz & Associates, LLC - Laredo, TX
Includes: Video Audio Paper Slides
Total Credit Hours:
3.25 | 3.25 ethics
TX, CA
TX MCLE credit expires: 6/30/2023
---
Preview mode. You must be signed in, have purchased this eCourse, and the eCourse must be active to have full access.