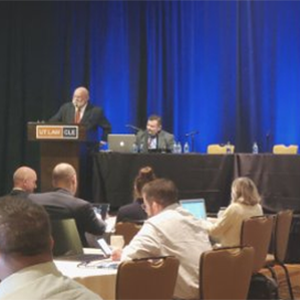 eCourse
Answer Bar: Handling Employee Investigations in Today's Workplace
Contains material from Jun 2018 to Jun 2022
Answer Bar: Handling Employee Investigations in Today's Workplace
4.16 out of 5 stars
What was the overall quality of the course (presentation, materials, and technical delivery)?
Rate the overall teaching effectiveness and presentation skills of faculty for the course.
How would you rate the value of the materials provided as part of the course?
---
Excellent material and presenters.
Technical Questions?
512.475.6700
service@utcle.org
Session 1:
Investigative Triggers and Internal Investigations
- In-house counsel will experience matters that may implicate potential government involvement; like hotline complaints, whistleblowers, or compliance clues. Hear a discussion on the fundamentals and best practices for internal investigations, communications with corporate leadership, and avoiding gatekeeper ethics and liability snares.
Session 2:
Handling and Responding to an Investigation (When Your Employees Are Remote)
- As a result of the COVID-19 pandemic, many companies have transitioned important business functions from in-person to fully remote. Discuss key practical issues for companies to consider when carrying out investigations in the remote working environment.
Session 3:
Whistleblowers
- A plaintiff-side and defense-side lawyer discuss protections and pitfalls for individuals and employers under state and federal whistleblower statutes.
Session 4:
The New Landscape for Sexual Harassment Claims in Texas
- Texas lawmakers have recently expanded the protections for employees asserting sexual harassment claims. Analyze the new longer statute of limitations, broader definition of employer, potential individual liability, heightened duty to respond, and more.
Session 5:
Employee Activism and Workplace Political Speech
- Analyze legal and practical implications of employee activism and political speech including best practices for employee training, policy development, and navigating related day-to-day workplace realities.
Session 6:
Age Discrimination: A New Kind of Generation Gap
- The Age Discrimination in Employment Act (ADEA) just celebrated the 50th anniversary of its enactment. With an aging baby boomer population, employees working past traditional retirement age, and millennials moving into management positions—these issues are more important than ever. Discuss strategies for managing multi-generational workforces and preventing age discrimination claims.
Session 7:
Combatting Hostile Environments: Risks of "Workplace Civility" Policies
- Anti-harassment policies that prohibit only conduct that is strictly unlawful do not go far enough to guarantee a respectful workplace for employees. But broadly-drafted policies that require civility in workplace interactions can have unintended consequences. Examine the pros and cons of policies that go beyond unlawful behavior, and what they can mean for you and your clients.
Session 8:
Rights on Trial: How Workplace Discrimination Law Perpetuates Inequality
- Understand the fundamental tensions in anti-discrimination law, how it impacts plaintiffs and defendants in the litigation system, and hear practical recommendations for how to better respond to persistent patterns of discrimination.
Session 9:
Recent Developments and Best Practices in Diversity and Inclusion
- Review best practices in diversity and inclusion, with a specific focus on the evolving impact of the pandemic (health and racial).
Session 10:
How to Be an Ethical Ally (When You Work with a Bunch of Attorneys)
- Are you a person who notices inequities around you? Do you want to respond when you see or hear another person being slighted? Do you work with a bunch of attorneys? If you said "yes" to any of these questions, then this is the ethics presentation is for you. We'll dive into some common biases sometimes seen in law firms and legal departments and discuss how you can effectively interrupt these biases by being an ally to your peers and to your profession.
Includes: Video Audio Paper Slides
Total Credit Hours:
6.75 | 2.00 ethics
TX, CA
TX MCLE credit expires: 8/31/2023
---
Preview mode. You must be signed in, have purchased this eCourse, and the eCourse must be active to have full access.