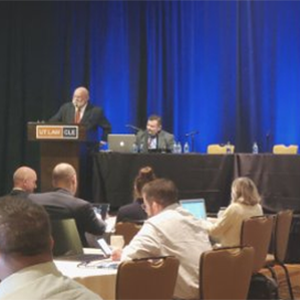 eCourse
eSupplement to the 18th Annual Mergers and Acquisitions Institute
Contains material from Nov 2021 to Aug 2022
eSupplement to the 18th Annual Mergers and Acquisitions Institute
4.2 out of 5 stars
What was the overall quality of the course (presentation, materials, and technical delivery)?
Rate the overall teaching effectiveness and presentation skills of faculty for the course.
How would you rate the value of the materials provided as part of the course?
Technical Questions?
512.475.6700
service@utcle.org
Session 1:
Identifying Your IP: Why is it Important and How to Protect It
-
Companies today are looking to monetize data of all types and leverage digital assets such as NFTs. Hear discussion on how to identify what intangible assets are protectable under the current intellectual property legal regime and which may not have protection under current laws. In addition, get tips for developing a comprehensive IP protection program that covers traditional IP assets as well as new embodiments.
Session 2:
Ethical Issues Facing In-House Counsel
-
In-house attorneys are on the front-lines of potentially complex ethics issues arising from employee misconduct, executive decision-making, and corporate compliance. Explore some of the gray areas and difficult situations in-house attorneys may confront.
Session 3:
Getting Private Equity and Hospital Physician Deals Done During the Pandemic and Beyond...
-
Discuss how the pandemic has influenced changes in the landscape, dynamics and pace of physician practice acquisitions. Our panelists, who represent and work with hospitals and private equity firms, compare and contrast the different approaches to physician practice transactions and the regulatory and other trends that they see impacting the healthcare M&A outlook post-COVID.
Session 4:
Last Chance Tax Planning: The Golden Age of Estate Planning Won't Last Forever (If You're Not Doing Estate Planning Now, What Are You Waiting For?)
-
In 2021, Congress shined a spotlight on many of the best tools in our toolbox that we use to avoid estate tax. Previously, many of these techniques were flying under the radar. Now that the general public is aware, there is a growing outcry to shut down these benefits. This is a wake-up call that, sooner or later, the tax landscape will likely drastically change. Now is the time to engage in "Golden Age" tax planning. Explore key provisions of the various tax proposals still on the table, the Biden Administration's latest tax proposals, and what kinds of planning clients should be putting in place before it's too late.
Session 5:
Overcoming Imposter Syndrome
-
Using mindset mastery techniques to improve attorney wellness and conquer imposter syndrome.
Includes: Video Audio Paper Slides
---
Preview mode. You must be signed in, have purchased this eCourse, and the eCourse must be active to have full access.