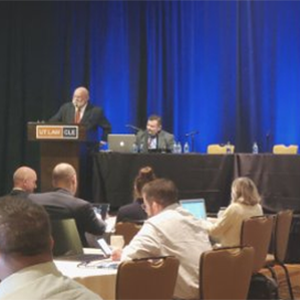 eCourse
Hooked on CLE: October 2022
Contains material from Jun 2022 to Aug 2022
Hooked on CLE: October 2022
4 out of 5 stars
What was the overall quality of the course (presentation, materials, and technical delivery)?
Rate the overall teaching effectiveness and presentation skills of faculty for the course.
How would you rate the value of the materials provided as part of the course?
---
The presentations made for an interesting afternoon.
Especially appreciated the information on new exclusions from insurance coverage.
Technical Questions?
512.475.6700
service@utcle.org
THIS MONTH: Planning for a Ransomware Attack: Practical Steps for Response Preparedness and Risk Mitigation • The Fundamentals of Early Dispute Resolution • Law in Transition: Recent Developments in Equal-Protection and Anti-Discrimination Law for Transgender People • Beyond Brief Writing • Pro Bono Opportunities for Business Attorneys
Includes: Video Audio Paper Slides
Total Credit Hours:
4.00 | 1.00 ethics
TX, CA
TX MCLE credit expires: 9/30/2023
---
Preview mode. You must be signed in, have purchased this eCourse, and the eCourse must be active to have full access.