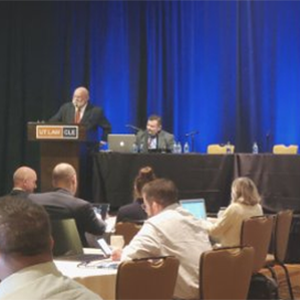 eCourse
Hooked on CLE: March 2023
Contains material from Aug 2022 to Jan 2023
Hooked on CLE: March 2023
4.31 out of 5 stars
What was the overall quality of the course (presentation, materials, and technical delivery)?
Rate the overall teaching effectiveness and presentation skills of faculty for the course.
How would you rate the value of the materials provided as part of the course?
---
Some highly relevant topics and some not relevant at all.
Technical Questions?
512.475.6700
service@utcle.org
Session 1:
Ted Lasso Ethics
- Five lessons lawyers should learn from Ted Lasso.
Session 2:
NiFTy Uses of NFTs and Other Emerging Technology for Cybersecurity
- Blockchains, cryptocurrency, and non-fungible tokens are all components of the metaverse. Explore the use of private and public blockchains, NFTs, and other "metaversal" technologies as part of an information security program as well as cybersecurity considerations that organizations should keep in mind when deploying these technologies.
Session 3:
Student Loans
- Gain insight into the constantly shifting student loan legislative landscape.
Session 4:
Small Crimes and Misdemeanors Related to Aging, Dementia, or Mental Health Issues
- A roadmap for attorneys who counsel clients and their families seeking practical resolution of these matters.
Session 5:
Diversity and Equity Issues for Small Businesses
- Every business should be committed to diversity and equity irrespective of its size. This section will discuss how small businesses can be intentional about doing their part to create a more equitable workplace and community.
Session 6:
Website Accessibility Lawsuits
-
The ADA requires that websites be accessible to those with disabilities. Hear what "accessibility" means for websites and the legal theories behind such suits, and take away effective strategies for dealing with a claim against your client.
Includes: Video Audio Paper Slides
Total Credit Hours:
4.00 | 1.00 ethics
TX, CA
TX MCLE credit expires: 2/29/2024
---
Preview mode. You must be signed in, have purchased this eCourse, and the eCourse must be active to have full access.