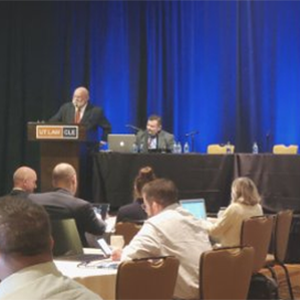 eCourse
Answer Bar: Going to Trial on an Employment Law Case
Contains material from Jul 2017 to Oct 2022
Answer Bar: Going to Trial on an Employment Law Case
Not yet rated
Technical Questions?
512.475.6700
service@utcle.org
Session 1:
Investigating Sensitive Employment Complaints​
- The investigation of an employee's complaint may be critical to an employer's only means of avoiding liability. The investigator may be a witness, and the notes may be evidence. Learn how to investigate and document the process.
Session 2:
Whistleblowers
- A plaintiff-side and defense-side lawyer discuss protections and pitfalls for individuals and employers under state and federal whistleblower statutes.
Session 3:
Depositions in Business Litigation
- Discuss strategies for securing the testimony you need in complex business cases.
Session 4:
Nuts and Bolts When Deposing on Behalf of the Plaintiff
- When representing the Plaintiff: essential steps for a successful deposition of defendant's expert, a witness or the defendant.
Session 5:
Deposing for the Defendant
- Effective deposition preparation and technique help achieve the dual goals of securing important admissions and discovering the Plaintiff's case such that the Defendant is not surprised at trial. This topic covers best practices for both aspects of taking depositions on behalf of a defendant.
Session 6:
Beating the Expert
- Find out how to take an expert's deposition—how to avoid being intimidated and how to set realistic, attainable goals when you depose the "expert."
Session 7:
Corroborating Evidence: It's Not Just a Swearing Match
- Workplace disputes dismissed as "he-said, she-said" very often are in reality "he-said, she-said" plus some other evidence says. What is corroborating evidence to courts and juries in workplace discrimination and harassment cases?
Session 8:
Anti-SLAPP for Everyone!
- More and more states are adopting Anti-SLAPP legislation, and the broad approach taken by Texas under the TCPA suggests that even a tangential relationship between the communication and a matter of public concern is sufficient. So what is an attorney to do? Review the elements and limits of Anti-SLAPP litigation, and make sure you are prepared the next time a slap is on the horizon.
Session 9:
Communication with Adverse Parties
- How can communicating with adverse parties minimize or maximize your effectiveness as an advocate, affect client service, and impact staff morale? It is not uncommon for the lofty ideals of legal professionalism to fade alongside the more instinctive goal of winning for our clients by using words or actions to crush our opponents. But using words to unnecessarily embarrass or demean can change how others perceive you, affect the willingness of your opponent to cooperate, and most importantly, may violate the rules of professionalism. Review the rules that speak to how we communicate with adverse parties, and the practical consequences of ignoring those rules.
Session 10:
Class Action Employment Litigation: What's Left and What's New
- Dukes, Epic Systems, and many other cases in the past decade have made class litigation extremely difficult in employment cases. Nonetheless, government agencies and private litigants are still filing a variety of class action discrimination cases and the prevalence of wage‑hour collective actions remain strong. Discuss the status of class and collective action employment litigation with a focus on recent developments impacting both the plaintiffs' and defense bars.
Session 11:
Settlement Documents: Lessons to Learn
- Optimizing separation agreement and settlement language to protect client assets, compliance with restrictions on confidentiality provisions, and avoiding hidden "gotcha" mistakes.
Session 12:
Top Drivers of Large Employee-Plaintiff Verdicts
- What happens at the workplace, before litigation, that drives large employee-plaintiff verdicts? What happens during the lawsuit that drives large employee-plaintiff verdicts? Understanding these drivers can help those on the worker-side develop a case toward a large verdict and help those on the management-side take action to avoid or limit a large verdict.
Session 13:
Ethics for Employment Attorneys: Am I Your Lawyer?
-
Explore the point at which an attorney-client relationship forms, with particular reference to employment attorneys on both the plaintiff and defense side. Discussion includes casual conversation, client intake, the effect and importance of disclaimers, and the risk of individual representation of corporate agents.
Includes: Video Audio Paper Slides
Total Credit Hours:
8.50 | 2.00 ethics
TX, CA
TX MCLE credit expires: 2/29/2024
---
Preview mode. You must be signed in, have purchased this eCourse, and the eCourse must be active to have full access.