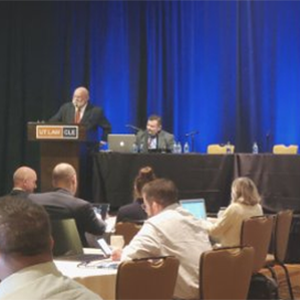 eCourse
Hooked on CLE: June 2023
Contains material from Sep 2022 to May 2023
Hooked on CLE: June 2023
4.14 out of 5 stars
What was the overall quality of the course (presentation, materials, and technical delivery)?
Rate the overall teaching effectiveness and presentation skills of faculty for the course.
How would you rate the value of the materials provided as part of the course?
---
The political slant of the first presentation has no place in mandatory CLE, especially in ethics credits. The copyright discussion was largely an entertaining free for all with knowledgeable speakers. Generally a good collection of presentations. Thanks.
Interesting presentations in a variety of areas of the law.
good presenters
I thought Michael Curry's "speech" was poor. The rest was good.
Technical Questions?
512.475.6700
service@utcle.org
Session 1:
A Lawyer's Duty in a Democracy Under Attack
- An examination of lawyers' duty to support the Constitution and democratic principles when they are being challenged.
Session 2:
What the Surviving Spouse Needs to Do, and What to Do if They Don't
- A practical discussion of the steps a surviving spouse can or should take when their spouse dies and what to do later if those steps are not taken.
Session 3:
Medical Staff, Nursing Staff, and Patient Rights in a Post-COVID World
- As we move past the pandemic into a post-public health emergency world, hospitals are contending with physician and nursing staffing shortages, changing trends in the use of physicians and advanced practice professionals on medical staffs, increasing violence by patients, and regulatory pressures. The speakers discuss these issues and options for responding to them.
Session 4:
Artist Rights: The Future of the Copyright Royalty Board for Songwriters
- ​This panel discusses the history and future of the U.S. Copyright Royalty Board, the federal agency that sets the royalty rate for the government's compulsory licenses for songs and webcasting among other.
Session 5:
Workers' Comp 101: The Basics of the Workers' Compensation System in Texas
- An overview of the Workers' Compensation System outlining the responsibilities of insurance carriers, employers, and self-insureds in the administration of work injuries in Texas.
Includes: Video Audio Paper Slides
Total Credit Hours:
4.00 | 1.00 ethics
TX, CA
TX MCLE credit expires: 5/31/2024
---
Preview mode. You must be signed in, have purchased this eCourse, and the eCourse must be active to have full access.