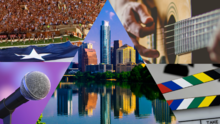 2023 Live Conference coming up Nov 8 in Austin. Info and registration »
2023 Materials expected available 3-5 weeks from conference date.
Entertainment Law 101 is a perfect overview for new entrants to the field, or a refresher for more seasoned practitioners. Learn what it takes to become a sports lawyer, understand the ins and outs of running an independent music business, gain the essentials of copyright and trademark law for working in the arts, and more. Then continue on for the 33rd Annual Entertainment Law Institute (ELI), now co-sponsored by The University of Texas School of Law and the Entertainment and Sports Law Section of the State Bar of Texas. ELI continues to bring together an outstanding faculty of nationally-regarded practitioners and industry insiders to keep entertainment lawyers up to date on the latest emerging trends, issues and breaking developments in music, film, games, and digital media.