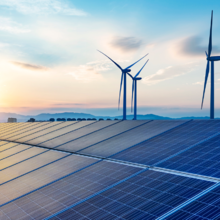 2023 Live Conference recently concluded Feb 1 More info »
2023 Materials expected available 3-5 weeks.
The 18th Annual Renewable Energy Law Institute blends law, economics, technology, finance, tax, and regulatory policy. The conference aims to inform industry participants, legal and financial advisers, as well as key legislative and regulatory policymakers and staff. Join leading attorneys and industry experts in wind, solar, and storage for two days of the latest developments affecting renewable energy in Texas and nationwide. 2023 highlights: Keith Martin returns with a stellar collection of Washington Energy experts for a round-table discussion on current federal energy policy that impacts renewable energy. Review and update of important state legislative and regulatory changes impacting the renewable energy markets, in Texas, California, Illinois and more. Hear about the unique issues faced when a renewable energy project is purchased or sold in the development stage, including buy back rights, build out restrictions and more. Impacts of Supply Chain Issues and Delays on Project Contracting Michael Webber presents Geopolitics and Extreme Weather Impacts on the Energy Markets Gain insight on what is going on at ERCOT, joint venture and joint development agreements; energy hedge and PPA agreements; construction loan agreements; DERs in Texas; and much more. Opportunity to meet program faculty and attendees during Tuesday evening's networking reception. Following the conference, attendees will receive supplemental on-demand programming to ensure they are able to satisfy their full 15.00/3.00 Texas MCLE requirement. Come a day early – for the Renewable Energy Law Essentials. This afternoon program is a perfect overview for new entrants in the field providing an introduction to real estate issues for large loads, financing of renewable energy projects, title insurance differences between Texas an ALTA states, ERCOT and PUC transmission and distribution grid planning, and more.