Subscriptions
Subscribe Today!
UT Law CLE's MCLE On-Demand and eLibrary
Unlimited Access. Anytime. Anywhere.
Compare Subscriptions
Compare Subscriptions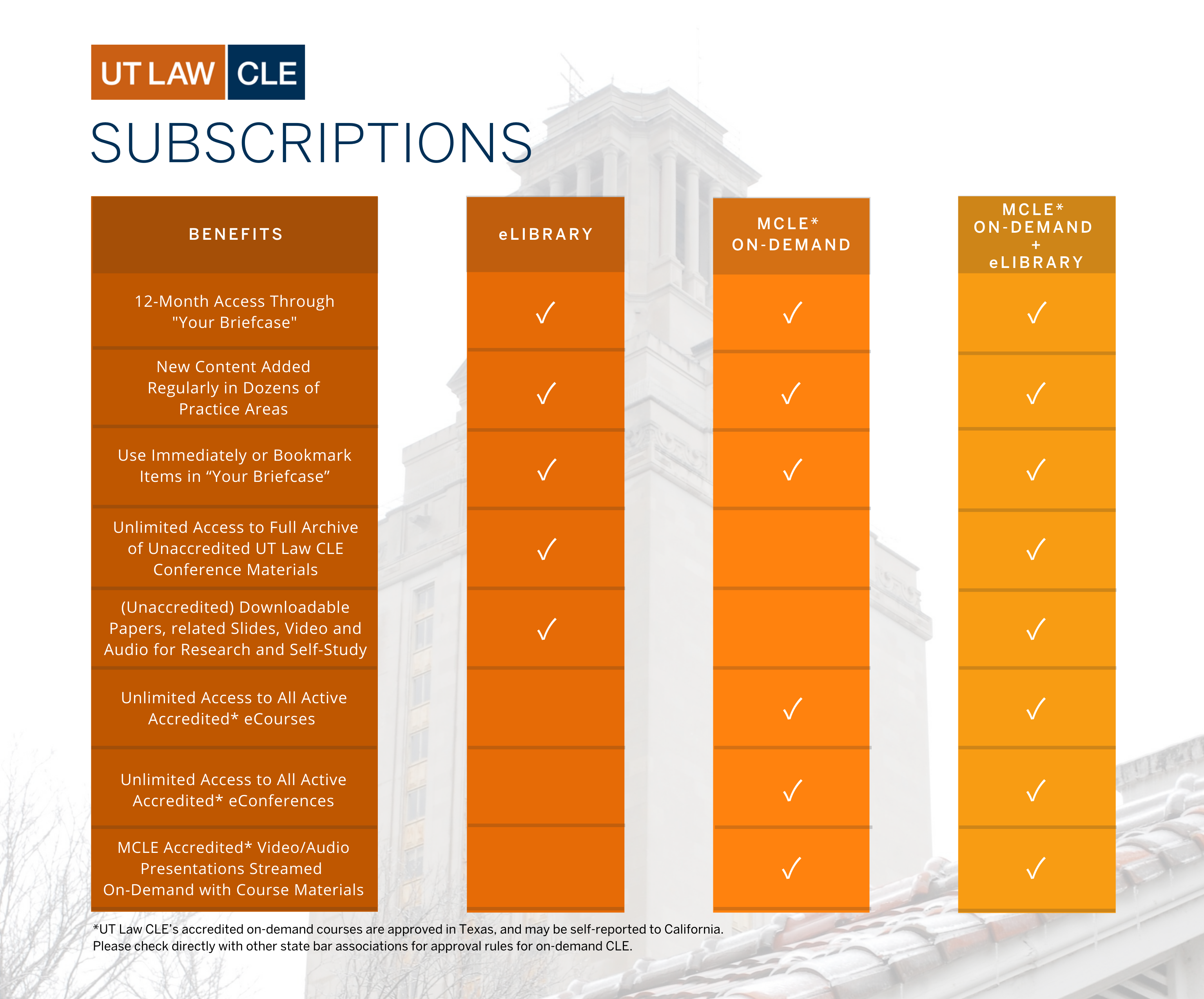 12-Month
eLibrary Annual Subscription
12-Month
MCLE On-Demand Annual Subscription
12-Month
MCLE On-Demand + eLibrary Annual Subscription
**Subscriptions do not include registrations to live conferences or live webcasts.
eProduct Subscription Terms and Conditions
UT LAW CLE EPRODUCT END-USER LICENSE AGREEMENT
The Continuing Legal Education Department at The University of Texas School of Law (UT Law CLE) offers subscriptions to its archived conference-related materials, as well as downloads of individual conference materials, under the following terms and conditions.
IMPORTANT—READ CAREFULLY: This End-User License Agreement ("EULA") is a legal agreement between you (either an individual or a single entity) and UT LAW CLE governing your use of UT LAW CLE eProducts (eLibrary, eCourses, eConferences) composed of conference-related materials in electronic, downloadable or streaming format ("ASSETS"). BY STREAMING, DOWNLOADING, COPYING, OR OTHERWISE USING THE ASSETS, YOU AGREE TO BE BOUND BY THE TERMS OF THIS EULA. IF YOU DO NOT AGREE TO THE TERMS OF THIS EULA, DO NOT DOWNLOAD OR USE ANY OF THE ASSETS. YOU MAY THEN CANCEL THE SUBSCRIPTION BY CONTACTING UT LAW CLE.
The ASSETS (including, without limitation, papers, PowerPoint slides, audio MP3s, video MP4s, animations, music, other text, and any other items posted as part of UT Law CLE eProducts) are licensed, not sold.
LICENSE GRANT
UT LAW CLE eProducts and ASSETS are protected by United States copyright laws and international copyright treaties, as well as other intellectual property laws and treaties. This EULA grants you the following rights, provided that you comply with all terms and conditions of this EULA:
GRANT OF SINGLE-USER LICENSE / SUBSCRIPTION

ASSETS are licensed to you individually for your use in a continuing professional education capacity, and by your administrative support team in furtherance of your continuing professional education goals. ASSETS are available in electronic form; licensed users may print one copy of each licensed ASSET.

NOTE: Only the licensed user may claim continuing education credit for any MCLE or CPE accredited eProduct or ASSET included in the subscription.

GRANT OF MULTI-USER LICENSE / SUBSCRIPTION (if applicable)

Multi-user subscriptions are available from UT LAW CLE with tiered pricing and multi-user discounts. If you have a multi-user subscription, your organization is licensed for use of the ASSETS by subscribers identified by name in the multi-user subscription in a continuing professional education capacity, and by each subscriber's administrative support team in furtherance of the subscriber's continuing professional education goals. ASSETS are available in electronic form; each subscriber may print one copy of each licensed ASSET.

NOTE: Only subscribers identified by name in the multi-user subscription may claim continuing education credit for any MCLE or CPE accredited eProduct or ASSET included in the subscription.
Licensees may not make commercial or other unauthorized use by publication, public display, broadcast, re-transmission, distribution, sharing, sub-license, or resale of ASSETS obtained from any eProduct, except as permitted by United States or international copyright or other relevant law, unless prior written permission has been obtained from UT LAW CLE.
Licensees may access and make use of the ASSETS only during the term of their subscription. Your subscription under the terms of this EULA begins as soon as payment is processed (the "START DATE") and lasts from the Start Date through midnight on the last day of the term of the paid subscription.
NOTE: Access to the eProducts and ASSETS expires at the end of the subscription. To maintain or regain access, you must renew the subscription or purchase the ASSETS individually.
All rights not expressly granted herein are reserved by UT LAW CLE.
DESCRIPTION OF OTHER RIGHTS AND LIMITATIONS
LIMITED WARRANTY AND LIMITATION ON REMEDIES

UT LAW CLE MAKES NO WARRANTIES, EXPRESS OR IMPLIED, CONCERNING THE ASSETS CONTAINED IN ANY EPRODUCT OR THE UT LAW CLE WEBSITE. UT LAW CLE EXPRESSLY DISCLAIMS ALL IMPLIED WARRANTIES OF MERCHANTABILITY AND OF FITNESS FOR A PARTICULAR PURPOSE. UT LAW CLE DOES NOT WARRANT THAT THIS WEBSITE, ITS SERVICES, ITS SERVERS, OR EMAILS SENT FROM IT ARE FREE FROM VIRUSES OR OTHER HARMFUL COMPONENTS.

Except for the Limited Warranty and to the maximum extent permitted by applicable law, UT LAW CLE provides the ASSETS and website "AS IS" AND WITH ALL FAULTS and hereby disclaims all other warranties and conditions, either express, implied, or statutory, including, but not limited to, any implied warranties or conditions of merchantability, of fitness for a particular purpose, of lack of viruses, of accuracy or completeness, and of lack of negligence or lack of workmanlike effort. THERE IS NO WARRANTY OR CONDITION OF TITLE, QUIET ENJOYMENT, QUIET POSSESSION, CORRESPONDENCE TO DESCRIPTION, OR NON-INFRINGEMENT.

YOUR EXCLUSIVE REMEDY for any breach of the Limited Warranty is cancellation of your eProduct subscription and a pro rata refund corresponding to the unused portion of your subscription. To exercise your remedy, contact UT LAW CLE, 727 East Dean Keeton Street, Austin, TX 78705, Attn: Customer Service; phone (512) 475-6700.

YOU ARE NOT ENTITLED TO ANY DAMAGES, INCLUDING BUT NOT LIMITED TO CONSEQUENTIAL DAMAGES, if the ASSETS or website do not meet the Limited Warranty, and, to the maximum extent allowed by applicable law, even if any remedy fails of its essential purpose. Some states/jurisdictions do not allow the exclusion or limitation of incidental or consequential damages, so the above limitation or exclusion may not apply to you. This Limited Warranty gives you specific legal rights. You may have others which vary from state/jurisdiction to state/jurisdiction.

EXCLUSION OF INCIDENTAL, CONSEQUENTIAL, AND CERTAIN OTHER DAMAGES

To the maximum extent permitted by applicable law, in no event shall UT LAW CLE be liable for any special, incidental, indirect, punitive, or consequential damages whatsoever (including, but not limited to, damages for loss of profits or confidential or other information, for business interruption, for personal injury, for loss of privacy, for failure to meet any duty including of good faith or of reasonable care, for negligence, from use of this website or sites to which it links, or from reliance on or use of information, services, software or merchandise provided on or through this site, or that result from deletion of files, delays in operation or transmission of data, or any failure of performance of the site, and for any other pecuniary or other loss whatsoever) arising out of or in any way related to the use of or inability to use any eProduct, the ASSETS, or the website, the provision of or failure to provide support services, or otherwise under or in connection with any provision of this EULA, even if UT LAW CLE has been advised of the possibility of such damages.

OTHER DISCLAIMERS

Information contained in the ASSETS is NOT legal advice and should not be construed as such. Non-lawyers should seek the advice of a licensed attorney in all legal matters and should not rely on any statements made in any of the ASSETS, as specific legal advice will vary with individual facts and circumstances.

In most instances, authors of ASSETS prepare their materials a short time prior to making a presentation at a conference, seminar, or webcast. ASSETS as part of any eProduct are expected to be current at the time of original publication/posting. You should be advised, however that they may become outdated or inaccurate based on subsequent legislative, regulatory, or judicial developments.

Although UT LAW CLE reviews articles for basic format and typographical errors, UT LAW CLE does not edit or review the content of ASSETS. Neither the authors nor UT LAW CLE can warrant that these materials are free from errors. You should always independently confirm the accuracy of information before using or relying on it.

The ASSETS reflect the viewpoints of their authors and do not necessarily express the opinions of The University of Texas at Austin, the School of Law, or UT LAW CLE.

TERMINATION

UT LAW CLE reserves the right immediately to terminate this EULA and deny you access to any eProduct if you materially breach this EULA, including but not limited to misuse or unauthorized use or distribution of ASSETS.

APPLICABLE LAW

This EULA is governed by the laws of the State of Texas without regard to conflicts of laws principles.
Revised: March 1, 2021