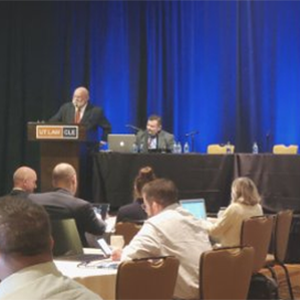 eCourse
Hooked on CLE: July 2022
Contains material from Sep 2021 to May 2022
Hooked on CLE: July 2022
4.19 out of 5 stars
What was the overall quality of the course (presentation, materials, and technical delivery)?
Rate the overall teaching effectiveness and presentation skills of faculty for the course.
How would you rate the value of the materials provided as part of the course?
---
I really enjoyed the mix of topics and it held my interest and is very useful in professional and private ways.
First time I've tried a "Hooked On" package... such a diverse set of topics it was hard to find one I really wanted to try, but at the same time interesting to learn about areas far outside my practice area. But quality of each presentation excellent.
Diverse info
Technical Questions?
512.475.6700
service@utcle.org
THIS MONTH: The Duty of Technology Competence • Estate Planning for Retirement Plans in View of the SECURE Act • Bad Facts: Making Lemonade From Lemons • Handbooks / Employment Policies • What's New? Developments Affecting the Renewable Energy Market
Includes: Video Audio Paper Slides
Total Credit Hours:
4.00 | 1.00 ethics
TX, CA
TX MCLE credit expires: 6/30/2023
---
Preview mode. You must be signed in, have purchased this eCourse, and the eCourse must be active to have full access.